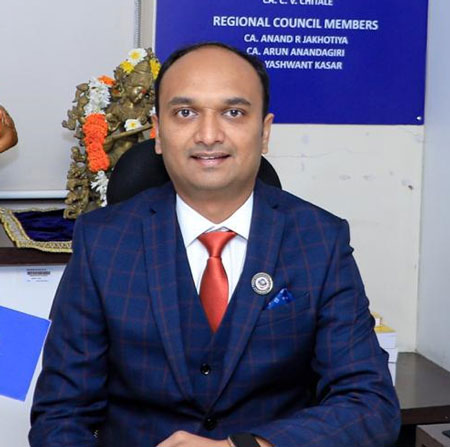 Dear Members,
Today our alma mater, ICAI is completing 71 Glorious Years of its Journey. Wishing you all a Very Happy CA Day 2020.
This year situation might be different due Corona Pandemic, but our enthusiasm to celebrate the CA Day has not been compromised. We would be celebrating CA Day with the same passion and zeal.
A variety of programs were held in the month of June 2020 for members as well as students. We had an unique Internal Audit Summit having more than 20+ speakers sharing their knowledge and experience. We also had sessions on Standards on Auditing and Newly inserted provisions of Professional Ethics.
Dear Members, you all would agree that, currently the industry is facing challenges which could be summarized in 3M's i.e. Man-days, Manpower and Money. Focussing on these challenges, your branch has organised variety of programs. Recently, we completed an informative webinar on Bank Loan Schemes specially designed for CA Members. On the International SMP Day, Pune ICAI has launched a helpdesk for CA Firms to get registered as MSME.
We at Pune Branch are thrilled to share with you that, we have recently unveiled "I Love ICAI" signage at the Branch Premises. It is a symbol to create affinity about ICAI amongst the Members, Students, and other citizens too. We also had Past Chairmen, RCMs, and CCMs meet wherein we have video recorded ICAI Motto Song and National Anthem in their gracious presence as a tribute to their contribution and efforts towards Pune ICAI.
We have organised various programs on the occasion of CA Foundation Day, 2020 like CA Day Sanvad Satra for deliberation with Stakeholders, Financial Literacy and Skill Development Program for undergraduate Students. Recently, we have successfully organised first ever virtual marathon. Blood Donation drive have been organised at 7 different locations. Various technical and non-technical sessions are planned for the benefit of members and students. I urge each one of you to participate in the initiatives taken by Pune ICAI.
Shri, Narendra Modi ji, Hon. Prime Minister has praised the work of Chartered Accountants in his Goodwill Message on the occasion of CA Day.
Friends, CA Day coincides with Doctors Day. Let us not forget herculean work of Doctors in this Pandemic Situation, wishing them a Happy Doctors Day!!!
Once again Wishing you a Happy CA Day, 2020!!!
Jai Hind, Jai ICAI !
Happy to Serve,
Abhishek Dhamne,
Chairman, Pune ICAI July 1, 2020 आषाढ 11, 1942 (Saka)